28-06-2021 to 25-08-2021 SOCIAL WIZARDS - Leading summer workshops for
If you've determined to travel and make a difference this year, 2021 there's no shortage of amazing volunteer abroad. In CAT Foundation we have a possibility for you to contribute in developing our local community. Immerse yourself in your personal development, taking a year gap? or just have spare time on your hands this summer? Take a brave step forward and apply with us.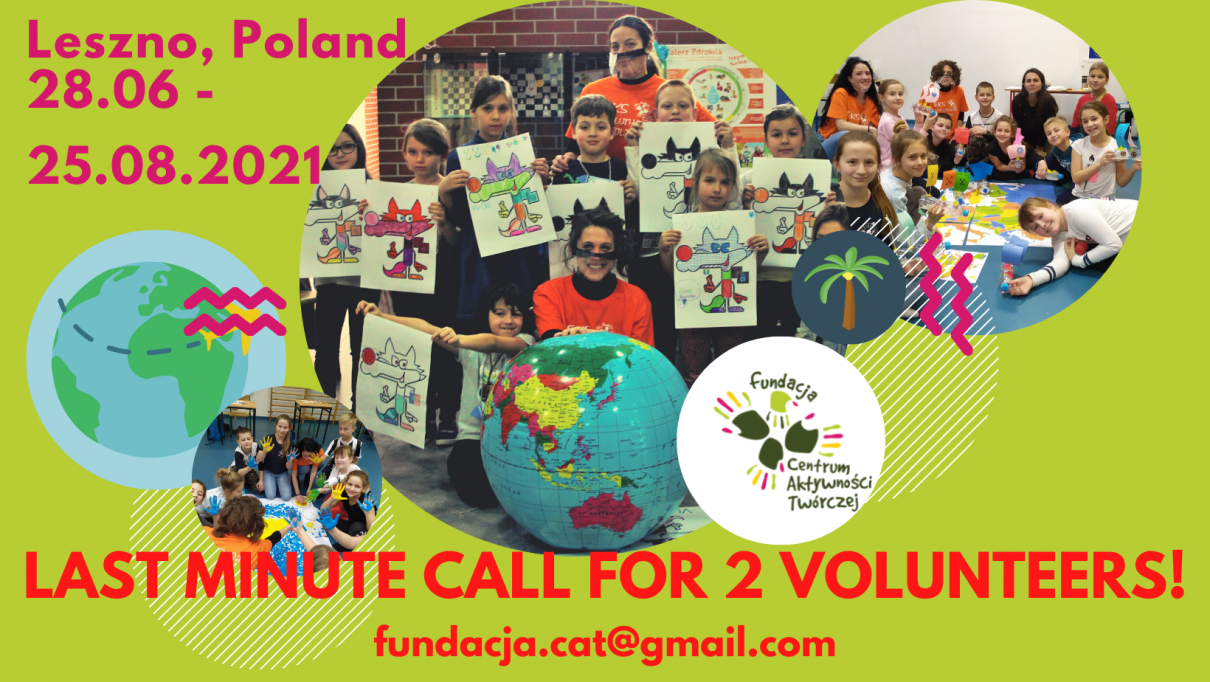 1

2 Placements , 2 available !!!!!!
Project: Social Wizards
Duration: 28-06-2021 to 25-08-2021 (travel dates, 26/27 june 2021 , leaving 27/28 Aug. 2021)
Country: Poland
Applications: EU- Countries Only, or candidates with EU residency,
Places: total 12 (12 Internationals - 2 left)
Where: Leszno 64-100 (between Wrocław/Poznań)
Age: 18-30
Deadline: ASAP

PROJECT SUMMARY:
a) Train to Coolture. The volunteers during their activities will be prepared to work with children. Volunteers will be encouraged to prepare activities and workshops according to their dispositions, skills and interests. They will independently prepare cultural presentations and language classes for children. The volunteers will also work together to prepare a scavenger hunt game for the participants. Activities aimed at introducing EU Programmes and the idea of mobility, showing young people the possibilities of taking part in solidarity actions through volunteering. Info about workshops: http://fundacja-cat.pl/news/w-1852/summer-camps-info-pack ; http://fundacja-cat.pl/data/files/1852/Welcome,%20New%20volunteers%20at%20summer%20camps!%20(1).pdf
b) Volunteers will prepare and lead independent sports activities (with language support from Polish volunteers) open for young people from the Leszno region.
c) During their stay the volunteers will also be involved in promoting the ESC Programme and the Eurodesk activities - they will run thematic workshops for theme workshops for young people in the Foundation's space and information meetings. Information meetings will also take place in open space, and volunteers will have access to stands/tents.
VOLUNTEER PROFILES:
Skills in: One of those: Music. Singing. Dance & Athleticism. Design-Photography-Visualization. Juggling -Grafitti arts and Animators (would be appreciates); LOVING KIDS & YOUTH .
Interest in developing: High Energy. Teaching / Training
VOLUNTEER WILL RECEIVE:
Europass - Language Passport,

Youthpass,

Europass - Mobility Certificate

SUPPORT By involving a common "Learning mentor" pedagogical degree MENTOR will work to impose management structures and sense of responsibility.
FINANCES & LIVING:
Volunteer receives: Pocket money 4EUR a day, Food allowance 14zl a day, Accommodation fully furnished, Health insurance, Reimbursement for travel tickets in and out of the project. Infopack attached.
APPLICATION (IF YOU DON'T HAVE SENDING ORGANISATION):
In order to apply:
Please send CV to fundacja.cat@gmail.com / In the title put your NAME and SURNAME, From Leaders to Ambassadors project

Then you will get an invitation for skype (other Video Call might be available, ask for it)
---
Co-funded by the European Solidarity Corps of the European Union
Galeria zdjęć: