Call for 4 International long term volunteers in Fundacja CAT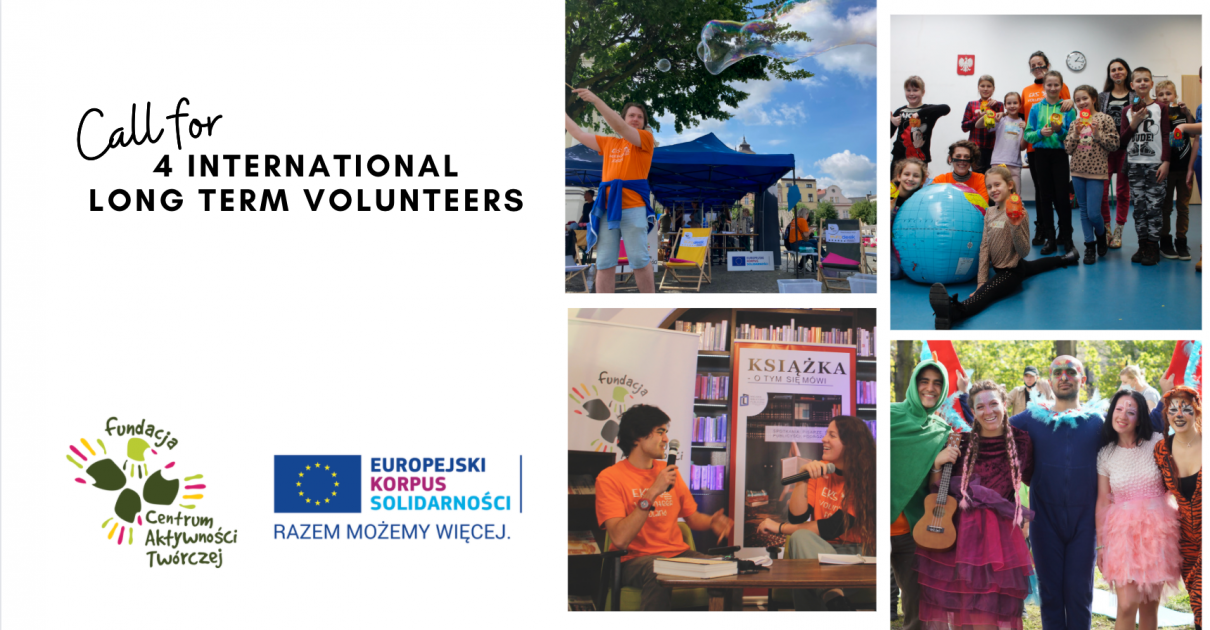 Call for 4 International long term volunteers in Fundacja CAT
Long term individual ESC volunteering
Project name: Leszno - Spread your wings!
Hosted in Leszno, Poland (1 hour train from both Wroclaw and Poznan)
Activity dates: 04/04/2022 to 01/02/2023 (304 days + 2 travel days)
Travel budget will be calculated based on the Erasmus+ Distance calculator
18-30 year old, basic communicative english needed, must not have participated in a long term ESC project previously
Accepted participant countries: Austria, Belgium, Bosnia and Herzegovina, Bulgaria, Cyprus, Czech Republic, Croatia, Denmark, Estonia, Finland, France, Germany, Greece, Hungary, Ireland, Italy, Latvia, Lithuania, Luxembourg, Malta, Netherlands, Poland, Portugal, Romania, Slovenia, Slovakia, Spain, Sweden, Turkey, Belarus, Russian Federation, Ukraine
Deadline for applications: 19/02/22
TOPICS:
- Inclusion
- Community development
- Human rights
ACTIVITY DESCRIPTION
As the goal of the project, volunteers will support the organisation with activities aimed at tackling social issues facing the Leszno community, such as poverty, issues around mental health of local young people, combating racist and xenophobic attitudes, concerns related to multiculturalism, and issues arising from lack of information relating to climate change. Solidarity and inclusion is at the heart of everything the organisation does, which is reflected in the activities of volunteers. Volunteers will expand the cultural and educational offer in Leszno by increasing the number of activities promoting European values, and increasing linguistic, social
and cultural learning in the local community. We also work closely with the Leszno volunteer centre to tackle issues from the bottom-up, identifying and organising around issues which are relevant to the local community. Volunteers will facilitate this through creating their own workshops.
Volunteers will have the opportunity to cooperate with other local NGOs in Leszno, such as the ECHO association, Local Committee for the Protection of Children's Rights, the crisis and intervention centre, and men's shelter.
The activities are very dynamic and varied, with volunteers having a lot of free space and being given a lot of creative freedom to design their own animation activities, workshops, and events.
ACCOMMODATION, FOOD AND TRANSPORT ARRANGEMENTS
Volunteers will be housed in one of the three, fully equipped, flats rented by the organisation, living with other volunteers, and sharing a bedroom with one other volunteer. All the houses are within walking distance of the two offices, so transport won't be required or covered for getting to the office, however bicycles are provided in each flat. Any travel outside of Leszno for activities related to the organisation, will be organised and covered by the organisation. Volunteers will receive 15pln per day(~450pln per month) as a food allowance, and a pocket money allowance (4euro/day)
TRAINING DURING THE ACTIVITY
Throughout the volunteering period, volunteers will receive regular training, beginning with an "orientation week" upon arrival aimed at introducing volunteers to life in Leszno. During this week, basic Polish lessons will be provided, which is then supported by access to the OLS (Online Linguistics Support) platform. On arrival training will be provided from the National Agency, as well as a mid-term training, with ESC volunteers from across Poland. The organisation will provide group coaching on a fortnightly basis, as well as a weekly evaluation session with the coordinators.
PARTICIPANT PROFILE
Passionate about issues relating to youths and inclusion & want to make a genuine impact. We have vacancies, each in one of four different roles:
-Leszno Volunteer Centre;
working closely with local Polish volunteers, exchanging experiences, and cooperating to lead activities such as sports clubs as an open platform for young people. Volunteers will also be involved in Action-Reaction meetings where issues facing young people are identified, discussed, and tackled through the arrangement of animation activities, all in dialogue with the target group. Volunteers will create presentations in local schools to inform young people about European opportunities, and volunteering more generally. Through the "Chill Out Zone", volunteers have the opportunity to get to know local young people, integrate with them, and share their own interests in the field of mental health, stress management, and relaxation activities, thus volunteers will be able to arrange activities according to their own abilities and hobbies.
-Street pedagogy;
Within this activity volunteers will work with young people, who spend a lot of time outside their family home, in the "street", organising their time on their own without the support and responsible adults.
The work will be carried out in socially degraded neighbourhoods and settlements, where a larger number of families live than elsewhere, in which various problems accumulate, such as poverty, unemployment, alcoholism, domestic violence, deficits in parenting skills and resourcefulness in life.
Volunteer trainers will reach out to young people, who do not attend local day care centres or participate in sports clubs and community centres. The idea will be to attract young people with fewer opportunities to the applicant, to present them with an offer of potential development and encourage them to use the youth centre and take part in the activities offered by the applicant.
-Language Cafe;
The café uses non-formal education methods in language teaching, language immersion and raises intercultural awareness of participants thanks to contacts with foreigners. In this activity
the volunteers will act as conversationalists helping participants from the local community of Leszno to learn a foreign language while at the same time improving their own communication and language skills. Participation in the action also aims, through the promotion of cultural diversity and multilingualism to prevent xenophobic and racist attitudes in the region.
The activity will also increase the comfort and confidence in using a foreign language, both among participants and volunteers, and will aim to break down barriers related to grammatical or vocabulary deficits.
-Ongoing administration work:
The volunteer will support the organisation's office and administrative work - by carrying out correspondence with partner organisations in the field of youth exchanges, training and volunteering, by carrying out external promotional activities and by assisting in the recruitment of volunteers for short-term volunteering (preparing infopacks, correspondence, video
correspondence, video interviews).
Volunteers will be involved in promoting DEOR projects and activities for international projects EKS, E+, the Eurodesk point run by the Foundation, the publishing of dissemination reports and co-leading pre-departure trainings.
For applications, you can either go through the Youth Portal ( https://europa.eu/youth/solidarity/placement/26952_en )
Or contact the project co-ordinator with your CV and motivation letter, at karolina@fundacja-cat.pl with the name of the project and the role you want to apply for in the subject line.